FOOD & PARTY EQUIPMENT RENTALS IN MELBOURNE
Affordable Cotton Candy Machines, Snow Cone Machines, Chairs, & Tables for Rent

Planning your child's next birthday party and looking for a way to make it extra special? At King Party Rental in Melbourne, FL, we have the party supplies you need to create a memorable event. We offer food equipment rentals for things like cotton candy machines, snow cone machines, and more. In addition to our food equipment rentals, we're also a leading provider of rental bounce houses, inflatable water slides, and party game rentals in the Melbourne area. We also offer trackless train rentals, pony rides, and table and chair rentals to make your life easier. No matter what kind of party you're throwing, we can help. Browse our website for your party rentals today.
When you need table and chair rental services in Brevard, Florida, contact King Party Rental. We offer table and chair rentals for all types of events, including weddings, birthday parties, graduation parties, anniversary celebrations, and neighborhood barbecues. Our party rental pricing is incredibly affordable compared to other party rental companies in the area, so be sure to do your research before signing on the dotted line. King Party Rental also offers bounce house rentals, inflatable slide rentals, food equipment rentals, and pony ride rentals to make your next party or event a hit. If you have any questions about our party rentals, get in touch with our friendly staff today.
Pricing:
$1 per Chair

$8 6-foot Rectangular Table

$15 Night Lighting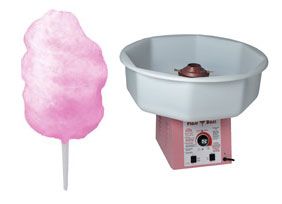 COTTON CANDY – NOT AVAILABLE AT THIS TIME
What birthday event should be without it? Cotton candy is always a winner with the children as well as adults. Comes with Blue or Pink floss (sugar).
$40.00 all day or $35.00 with a bounce house or train rental. Call (321) 914-2432 to make a reservation or fill out the form on the right.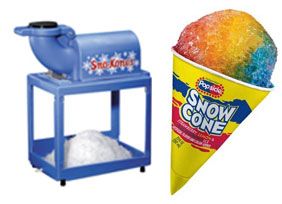 What a refreshing treat! Make snowcones instantly at your party or event and everyone will love it. Comes with grape, cherry, and orange syrups and snowcone cups.
$50.00 with a bounce house or train rental.
BENEFITS OF USING OUR PARTY RENTAL SERVICE:
Save money and get what you need for the time that you need it

Make every party different

Keep everyone entertained

Wide selection of items to choose from

Simplify logistics

No maintenance costs
KIDS BIRTHDAY PARTY EQUIPMENT RENTALS IN BREVARD COUNTY
Nobody wants to spend all week before a party preparing. Throwing a kid's birthday party or other event should be fun and easy. If you have a "no kid left uninvited" policy in place, you're likely going to be having kids from all over the neighborhood and your kid's class over. Regardless of whether you want to keep it casual or have special entertainment, there are a few things that are absolute must-haves for any party — such as tables and chairs.
When there are 20 kids running around your property, there's always the risk that something gets damaged. Instead of using your own furniture and chairs, choose to rent some from King Party Rental so you can keep your personal equipment safe from the inevitable playtime tornado.
RENT BIRTHDAY PARTY EQUIPMENT IN BREVARD COUNTY TODAY
Brevard County's premier party rental company offers you quality party rentals, knowledgeable customer service, prompt delivery, and great prices. If you would like anything from tables and chairs to cotton candy machines and snow cone machines, reach out to King Party Rental today!
Reserve Your Rental Today
Do not fill this form out if you're a solicitor.